The world's biggest AI show series by Trescon is a global string of events that will look at a diverse range of domains which will be impacted by the implementation of AI and ML technologies. With a stellar line-up of elite AI experts, both international and national, this series will primarily focus on the revolutionary ways that AI will change commercial fields around the world.
As part of the global series, Mumbai will host the upcoming edition of the World AI Show on the 22 and 23 of November 2018. Supported by the Government of Maharashtra and the Ministry of Electronics and Information Technology, Government of India, this event will host chief keynote speakers, industry specialists, data scientists and AI experts from across multiple domains. As part of the event, India's First 3D Printed Humanoid Robot will welcome the delegates and panelists. The event will centre on future implications of AI and will see AI and Robotics experts engage in informative panel discussions and tech-talks. Listed below are some of the celebrated speakers that we will be hosting in Mumbai.
DR GAURAV PRADHAN

As a competent data scientist, Dr. Gaurav Pradhan is a highly dynamic strategic leader with over 23 years of expertise in the field of predictive analytics, business intelligence, and research & solution consulting. Through his many profound traveling experiences, Dr. Pradhan manifested the skill of delivering comprehensive solutions across various vertical domains. In the year 2010, he was awarded the prestigious 'Hind Rattan Award' by the Union Minister for Heavy Industries and Public Enterprise, Government of India, for his contribution to the field of ICT.
His comprehensive knowledge on implementing new age information security policies and data extraction led him to predict the outcomes of some of the most turning events of recent times. He had predicted the NDA coming to power in the elections of 2014, while in another instance, he declared the winning of President Trump in the US Presidential Elections in March 2016 itself.
SHRI AMITABH KANT
Presently the CEO of Niti Aayog, a think tank focused on catalysing India's growth and development, Amitabh Kant has been the pioneer of well-received development initiatives and schemes such as the 'Make in India', 'Startup India', and 'Incredible India'. These schemes have attained several international and national awards that include the Bloomberg TV Personality of the Year, Economic Time Policy Change Agent of the Year Award and the Distinguished Fellowship of the Institute of Directors.
A former IAS Officer, he is associated with infrastructure development, formulation and implementation of industrial policy and strategies for industrial development, product enhancement, and private-public partnership for various Indian projects. He also served as the National Project Director of the Rural Tourism Project under the UNDP, which aims to put Indian villages on the world map in order to enhance tourism opportunities.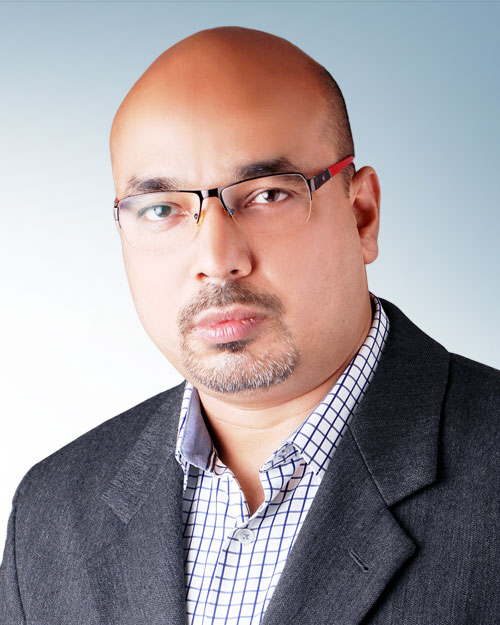 UTPAL CHAKRABORTY
An acclaimed Agile and Lean practitioner, Utpal serves as the current Head of the Artificial Intelligence division at Yes Bank Pvt Ltd. Over the course of 20 years, he has received numerous commendations by multiple industries across the globe, for having implemented out-of-the-box Agile and Lean schemes across a diverse range of fields. His remarkable application of Agile and Lean techniques to
enhance the framework for movie production has gained appreciation from the Agile and Lean communities across the globe.
His recent research on Machine Learning titled 'Layered Approximation for Deep Neural Networks' has been well received across the AI-ML domain. Besides being a renowned Artificial Intelligence speaker and researcher, he has also worked as the creative director for many Bollywood parallel art films such as 'Extraordinaari' among others
SUNIL NAIR
Awarded the Top 50 CIO Award for his exemplary work in technological initiatives and IT leadership in the Indian market, Sunil Nair is a well-known name in the field of emerging and disruptive technologies. In addition to that, he also shares 23 years of experience in the retail domain across different verticals such as Food & Grocery, Apparels & Textiles, and Consumer Durables among others. An orientated technology leader, his experience in the retail and technology field spans across various geographical areas such as the Middle East, Asia, and Australia, which helped him gain a contemporary global perspective on the evolution of the retail sector from the traditional brick-and-mortar to today's Omnichannel approach.
As the current CTO of Spar India, Sunil Nair has established himself as the driving force behind delivering cost reductions, effective gains and competitive advantage across the business.
KAPIL MAHAJAN
Kapil Mahajan is currently the Group CIO for Safexpress Pvt Ltd., a supply chain and logistics firm offering large-scale supply chain services. A thorough strategic visionary and a true digital leader, he is known as one of the early adopters of CAMSS (Cloud, Analytics, Mobile, Social, and Security), across a global client base. His sharp technical knowledge and business understanding have led him to build and execute outstanding digital practices and strategies for multiple global brands.
His area of expertise includes Data Warehousing, Analytics, CRM, Mobility, Digital Transformation and management of complex vendor partner setups. Being a favourite among Fortune 500 companies, he has worked with known names throughout the globe such as Shell UK, American Express and the Development Bank of Singapore.